I recently binged a Netflix show that wasn't recommended me, nor forcefully ordered by a, "YOU HAVE TO WATCH…[insert streaming content here.]" It's a sci-fi show called Travelers. I hadn't heard of it. It stars Will from Will & Grace. It sounds like a National Geographic program. I'm really glad I gave it a try.
Created by Brad Wright, the force behind all the Stargate SG-1 series (seen them all, love them all), Travelers is a twist on your typical "time travelers from the future arrive to stop or start an apocalypse" story, like Terminator, or most recently, ABC's unfortunately short lived The Crossing. In this story, people's consciousness are sent back in time, rewriting the mind of a person in the present, therefore taking over that person's body, and life. Isn't that the same as killing a person, you might ask yourself? Yes. It's the same. But in the future, they know exactly when and where a person is going to die, in the past. For example, John gets hit by a bus on August 11th at 3:12pm. At 3:11pm, a "traveler" is downloaded into John's mind. This traveler, now in John's body, doesn't step off that curb and isn't hit by the bus. John was chosen to minimize unexpected impact on the timeline, because he's going to be dead anyway. Now that traveler IS John, on the outside. On the inside he's on a mission from the future. If that's not a good explanation, just watch the first episode. It's a unique take on time travel.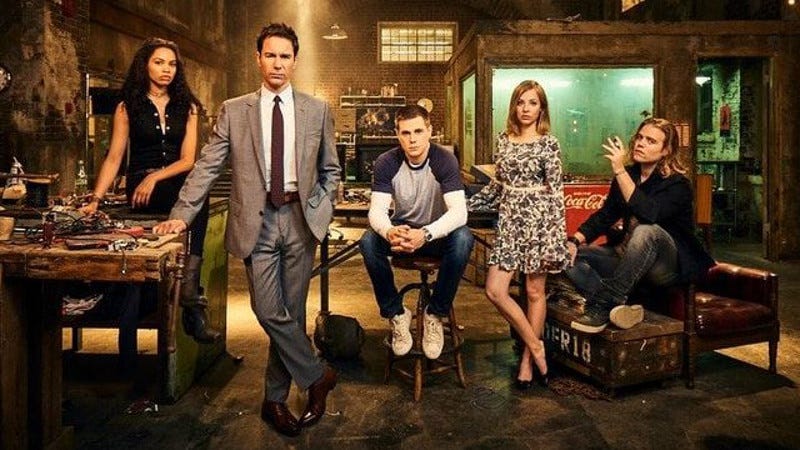 The travelers, thousands of them, are here to stop an apocalyptic event which destroys most of humanity. That's one of the main plots. But the other side of the plot is what really gets you: the moral/immoral complications of taking over someone's life. The life they took over: their loved ones, family members and jobs are all affected. Appearances have to be kept up. One Traveler was accidentally sent back into the mind of a special needs woman. Another, a heroin addict. There are also complications to changing the timeline. And some disturbing scenes of travelers and messages from the future re-writing people's minds who were NOT going to die. An innocent person was killed just to send a message to a traveler.
Allow me to geek-out for a minute: one scene I found very clever, yet disturbing, and I wrote about it on Twitter. Brad Wright, the creator of the series, liked it. Picture included for peak geekiness.
It's dark, complex, and sometimes funny story. The action scenes are on a budget, but great writing and an excellent cast makes it work. It's also filmed in Vancouver and we're treated to a great trove of Canadian actors that I recognize from other great sci-fi series. Bonus! Netflix picked it up for a third season.
If you're looking for a show to watch, and you like sci-fi, I highly recommend Travelers. What do you think I should watch next?